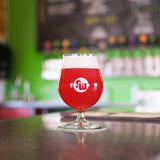 Set of FW Tulip Glasses
Drink in classic Funkwerks style at home! This bulbous tulip glass has been used in our taproom since the very beginning and is the perfect vessel for any effervescent, aromatic beer. 
Holds 17oz brimful. Top of Winky's head is approximately 12oz pour line. 
Etched nucleation of FW logo in bottom of glass. Must wash glass before using. 
**One order includes a set of two or four glasses!
*Beer not included.*